A Busy Weekend: Chase Center Opens, Autumn Moon Festival, and Much More
By Schad Dalton
Events: This weekend will be absolutely packed with events large and small all around the city. The biggest event, of course, is the official opening of the new Chase Center in the Mission Bay neighborhood on Saturday, September 7. While the opening of Chase Center is bound to dominate the headlines, there is a myriad of other events also taking place that shouldn't be forgotten. Saturday will host the Red Bull Bay Climb, a bicycle race in the Potrero Hill neighborhood, as well as the annual Festa Coloniale Italiana in North Beach. The fun continues on Sunday as the SF Giant Race returns for its 10th year as runners compete along its waterfront courses. For those looking for a more relaxing Sunday, Opera in the Park will usher in the new season with sneak peeks at some of the performers who will headline the fall shows. A pair of two-day events will also take place this weekend starting with Chinatown's annual Autumn Moon Festival and Parade. Lastly, don't miss out on Muni Heritage Weekend, a unique opportunity to ride rare vintage vehicles and enjoy family-friendly activities and exhibits. The festivities are located at the San Francisco Railway Museum at 77 Steuart Street, San Francisco. Read more about our featured events below.
Chase Center Opening Reminder: The newest home of concerts, conferences and Warriors basketball in the city, Chase Center will be a focal point of Bay Area entertainment for years to come. The SFMTA is working in partnership with the Golden State Warriors to ensure that Chase Center patrons can get to and from events with the minimal possible impact on residents, merchants and employers in Mission Bay and the surrounding neighborhoods. Parking in the area will be very limited, so it is recommended patrons take advantage of the various public transit options in the area, including the T Third Street Muni Metro Line which stops at a new platform right out in front. As a part of our partnership, all patrons with tickets to events or Warriors games can use those tickets to ride Muni for free to Chase Center. Read more about Muni routes to and from Chase Center -- as well as all other transit options-- on our blog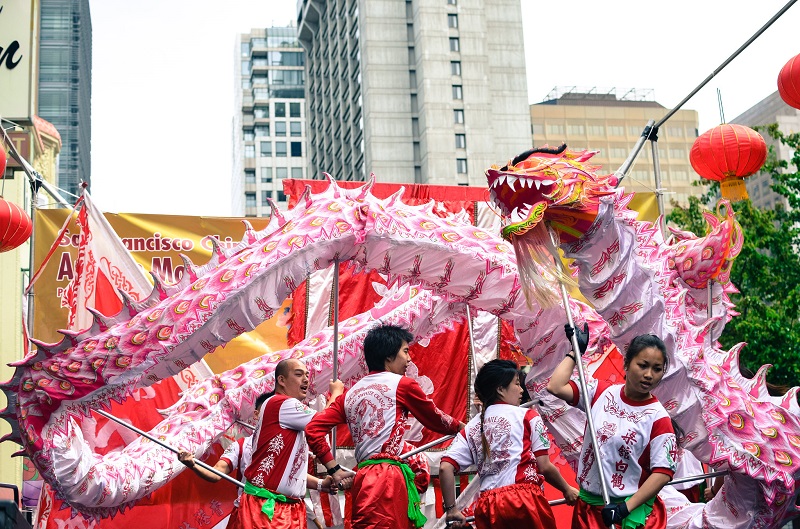 Head to Chinatown this weekend for the vibrant and colorful displays of the Autumn Moon Festival and Parade. Photo: Jonathan Chen/Flickr
Autumn Moon Festival
Saturday and Sunday, 11 a.m. to 6 p.m.
Chinatown
Autumn Moon Festival celebrations have been a tradition throughout Asia for over 1,000 years and that tradition continues on this side of the Pacific in Chinatown this weekend. San Francisco's festival began in the wake of the 1989 Loma Prieta earthquake as a way to revitalize the district and rebuild the community and it has been an annual event ever since. The holiday is often considered the "Chinese Thanksgiving" because of its celebration of gratitude and inclusion of abundant food. This family-friendly event will take place on Clement Street between Fifth and Eighth avenues, will feature dynamic performances, community resources, and great food and drink vendors.
---
How to Get There on Muni: Get to the event via the Powell/Mason, Powell/Hyde and California Cable Car lines, 1 California, 2 Clement, 3 Jackson, 8 Bayshore, 10 Townsend, 12 Folsom/Pacific, 30 Stockton, or the 45 Union/Stockton bus routes.
Muni Service Note: The 10 and 12 routes will have reroutes in the area of the event, while other routes to and from the event may experience some minor delays and increased ridership.
Festa Coloniale Italiana
Saturday, 11 a.m. to 5 p.m.
North Beach
Festa Coloniale Italiana, hosted by the San Francisco Italian Athletic Club Foundation, is the only authentic Italian street festival in San Francisco. The festival, which takes place adjacent to Washington Square Park in the heart of North Beach, will feature its annual pizza tossing by Tony Gemignani of Tony's Pizza Napoletana as well as a vintage Italian car and scooter show. There will also be live music, authentic Italian cuisine, wine tasting and more.
How to Get There on Muni: The 8 Bayshore, 10 Townsend, 12 Folsom/Pacific, 30 Stockton, 39 Coit, and 45 Union/Stockton routes will take riders close to the event.
Muni Service Note: The 39 Coit Route will be rerouted for the festival. The 8, 10, 12, 30, and 45 may see delays and crowding due to increased ridership.
Remember that you can take Muni for the entire day for a single $5 fare. The new $5 Day Pass, available on MuniMobile®, is part of Muni's recent fare changes. The pass is intended to encourage a safe, convenient way to pay your fare and quickly board Muni vehicles, which reduces overall travel time for everyone. The $5 Day Pass is Muni bus, rail and historic streetcars only.
"On Tap" gives you a heads up about the big events in town and what Muni routes and lines will get you to the party. Look for this feature to be posted usually on Thursdays for a look ahead to the weekend. Check out our Weekend Traffic & Transit Advisory for more details.
Published September 04, 2019 at 10:50AM
http://bit.ly/2MUEXzY