This Weekend: Presidio Picnic
By Schad Dalton
Events: It's an unusually quiet weekend ahead in terms of major events around the city, but that doesn't mean there's any shortage of fun activities to be found. Catch the second half of a four-game series as the Giants finish out their current home stand against the San Diego Padres on Saturday and Sunday. On Sunday, check out the San Francisco Zine Fest at the SF County Fair Building in Golden Gate Park, enjoy some of the area's best food truck fare at the Presidio Picnic, or take tours of multiple buildings all around the city during the Architecture and the City Festival which kicks off a month-long event series exploring the city's diverse architecture. Read more about our featured event below.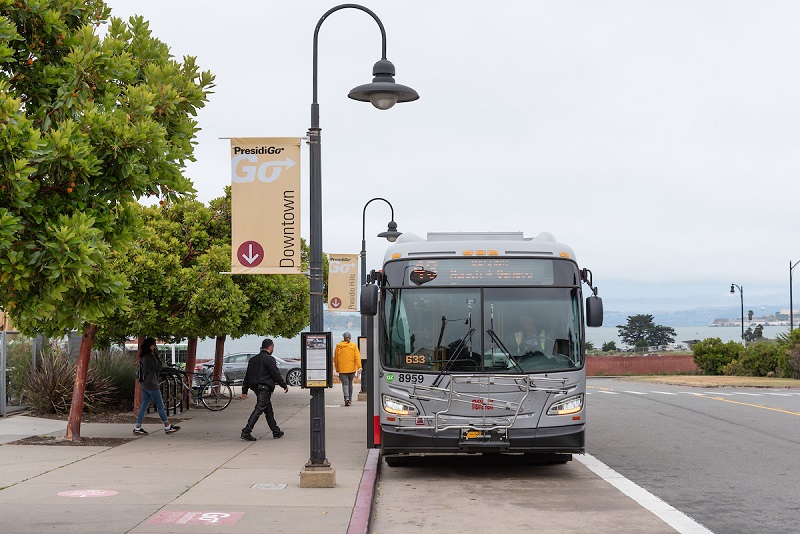 The 43 Masonic will drop riders off just a short walk from the Main Parade Ground location of Sunday's Presidio Picnic. Photo: SFMTA Archive
Presidio Picnic
Sunday, 11 a.m. to 4 p.m.
Presidio
Take in views of the bay and Golden Gate Bridge from the Presidio's main parade ground while also filling up on a wide selection of the city's best food truck cuisine at the Presidio Picnic this Sunday. A continuation of the months-long series that began March 31 and concludes for the season on October 20, the Presidio Picnic will feature over 30 vendors of mobile multicultural food and drink. Each Sunday event is a little different and along with the delicious eats, some other notable activities include free yoga classes, lawn games, a photo booth and much more.
---
How to Get There on Muni: Picnic goers' most direct Muni option to the event is the 43 Masonic Route, though the 28 19th Avenue and 30 Stockton routes will make stops within reasonable walking distance of the event.
Muni Service Notes: There are no planned service changes for this event.
Remember that you can take Muni for the entire day for a single $5 fare. The new $5 Day Pass, available on MuniMobile®, is part of Muni's recent fare changes. The pass is intended to encourage a safe, convenient way to pay your fare and quickly board Muni vehicles, which reduces overall travel time for everyone. The $5 Day Pass is Muni bus, rail and historic streetcars only.
"On Tap" gives you a heads up about the big events in town and what Muni routes and lines will get you to the party. Look for this feature to be posted usually on Thursdays for a look ahead to the weekend. Check out our Weekend Traffic & Transit Advisory for more details.
Published August 28, 2019 at 12:49PM
http://bit.ly/2L1m8sq