This Weekend: Clusterfest and Summer Circus Day
By Schad Dalton
Events: Civic Center will become an epicenter of music and comedy this weekend during the third annual Clusterfest. For those looking for something a little less raucous, there will be a free summer circus day at Yerba Buena Gardens on Saturday. Read more about our featured events below.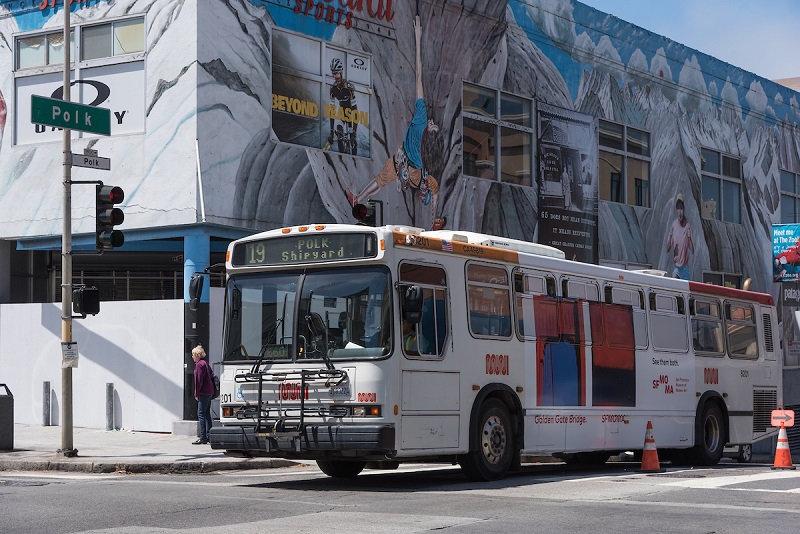 The 19 Polk Route will have a reroute around the Civic Center, but will nevertheless be a good choice to reach Clusterfest this weekend. Photo: SFMTA Archive
Clusterfest
Friday through Sunday, various times
Civic Center
It's that time of year again: Clusterfest returns with comedy, live music and much more. Headliners include comedians John Mulaney and Patton Oswalt while TV fans will be able to do their best Kramer impression on the recreated set of Jerry's apartment from the iconic 90s sitcom Seinfeld or transport themselves to the electric city of Scranton, Pennsylvania on the set of the office from the eponymous and equally-iconic 2000s series.
How to Get There on Muni: Riders may take any Muni Metro line to either the Van Ness or Civic Center stations, the F Market and Wharves Line, as well as 5 Fulton, 6 Haight/Parnassus, 7 Haight/Noriega, 9 San Bruno, 14 Mission, 14R Mission Rapid, 19 Polk, 21 Hayes, 31 Balboa, 47 Van Ness or 49 Van Ness/Mission routes to the area of the event.
Muni Service Notes: The 19 Polk will have a reroute in both directions around the Civic Center area. All other routes to and from the event may see increased ridership and some minor delays.
Summer Circus Day
Friday and Saturday, 12 to 2:15 p.m.
SoMa
Circus Bella is a full-force performance of thrilling feats of balance and strength, demonstrations of grace and a healthy dose of humor courtesy some slapstick antics.The circus showcases static trapeze, rope walking, a 9-person juggling act, contortion, hula hoop, original clowning and more.
---
How to Get There on Muni: Riders may take any Muni Metro line to Powell or Montgomery stations, the F Market and Wharves Line, any Market Street bus route, as well as the 8 Bayshore, 14 Mission, 14R Mission Rapid, 27 Bryant, 30 Stockton or the 45 Union/Stockton routes to near the event.
Muni Service Notes: There are no planned service changes for this event.
Remember that you can take Muni for the entire day for a single $5 fare. The new $5 Day Pass, available on MuniMobile®, is part of Muni's recent fare changes. The pass is intended to encourage a safe, convenient way to pay your fare and quickly board Muni vehicles, which reduces overall travel time for everyone. The $5 Day Pass is Muni bus, rail and historic streetcars only.
"On Tap" gives you a heads up about the big events in town and what Muni routes and lines will get you to the party. Look for this feature to be posted usually on Thursdays for a look ahead to the weekend. Check out our Weekend Traffic & Transit Advisory for more details.
Published June 19, 2019 at 11:51AM
http://bit.ly/2MWiOlu